Are you an aspiring artist or hobbyist who dreams of having their own spacious art studio to create and explore creativity? Have you wanted to create a dedicated space to house your supplies, projects, and ideas but have yet to be held back by a tight budget? Well, we have good news for you! With some simple design tips and creative solutions outlined in this blog post, the perfect home art studio is within reach! Whether you're looking for ways to redesign your current area or are just starting to create your own space from scratch, our guide will help remove any unnecessary financial burden that comes with building an artistic sanctuary. Read on for all the details!
Why you need an at-home art studio
Having an at-home art studio can be a great way to maximize your creative potential. It doesn't have to take up a lot of space or cost a fortune. With the right supplies and setup, you can create beautiful works of art without ever having to leave home.
An at-home art studio allows you to work whenever you want, without any distractions or interruptions from people around you. You'll always have all of your supplies on-hand, so there's no need to waste time running errands or tracking down materials. And best of all, you get to keep your creativity flowing and stay inspired by being surrounded by things that inspire you – like books, music, plants, and photos.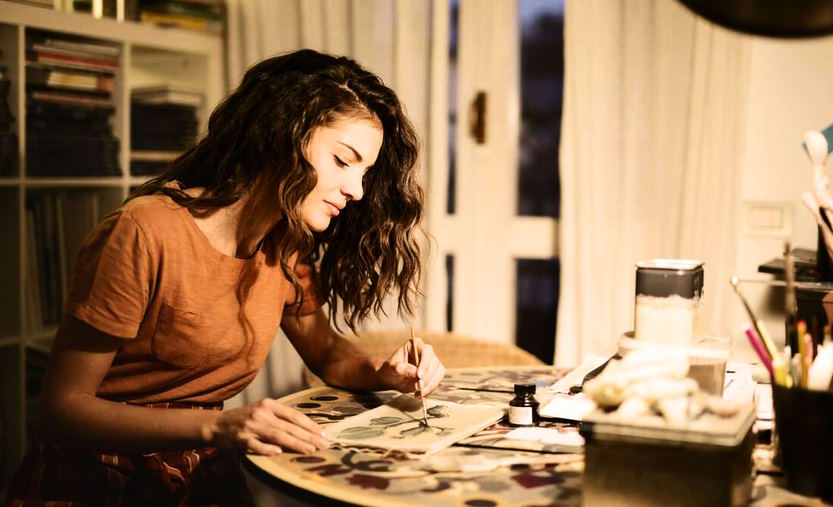 Having an art studio in your own home also allows you to organize and store your materials in a way that works best for you. For example, you can create a space specifically tailored to the type of artwork you like to make, with shelves to hold all of your supplies, brushes, paints, and other tools. You can even hang up finished pieces or sketches on the wall, so you have something inspiring to look at!
And if you ever need help coming up with new ideas or techniques, having an at-home art studio gives you easy access to tutorials and classes online. So no matter where you are in your artistic journey, there's always more knowledge available at the tip of your fingers.
An at-home art studio is a great investment that can help you reach your creative goals and express yourself in exciting new ways. So why not give it a go? You never know what amazing things you might create!
Things you need to know before you design a home art studio
Choose a Room: Before you begin designing your home art studio, determine which room in your house will serve as the creative space. Consider the size of the room and what pieces of equipment and furniture you will need to use efficiently.
Natural Light: One of the most important elements for any artist is light! Identify which parts of the room receive natural light throughout the day and ensure that these areas are used for tasks that need adequate lighting (like painting or sculpting). Additionally, consider purchasing lights that can be adjusted according to your needs.
Be Organized: A home art studio needs to be organized in order to foster creativity and efficiency when working on projects. Utilize shelves and storage containers to keep supplies neatly stored and easy to access. Additionally, designate specific areas of the space for certain tasks or materials (like a desk area solely for sketching).
Comfort: When designing your home art studio, take into account how comfortable you will be in this space. Consider the furniture you need to purchase and the types of surfaces best suited for working on different projects. Additionally, consider purchasing a comfortable chair or stool if you plan on being in this room for extended periods.
Inspiration: Incorporate pieces that will help inspire your creative process while working on projects in your home art studio! Hang artwork from favorite artists on the walls or display pieces created by yourself. Additionally, bring in plants or other decorations that will help make the room feel more inviting and inspiring.
Safety: Finally, safety should be considered when designing your home art studio. Be mindful of any cords or surfaces that could become a hazard, and think about how to safely store hazardous materials (like paint thinners, solvents, etc.)  Taking these precautions will ensure you remain safe as you create beautiful pieces of artwork!
This is just a starting point for creating your home art studio, and there are plenty of other things to consider. So take some time to assess what kind of space you need and what type of materials or equipment would be most useful for your creative projects!